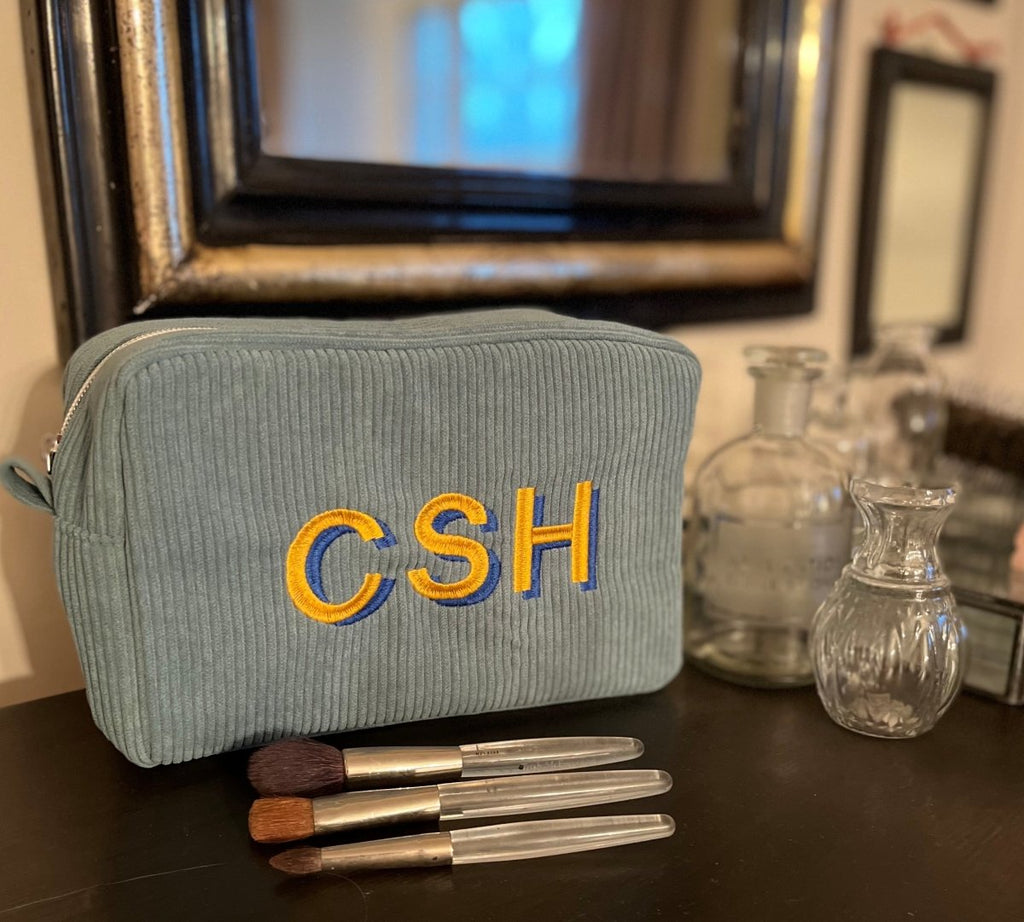 As January is a month when we source new products for the year ahead, we thought you might like to see how we bring a new product to life... a long, creative, collaborative and, at times, tedious process that is at the heart of our business.  
As so many of you return again and again to shop for new gift ideas, we need to be sure we are constantly fine-tuning the product line and adding fun new things.  
So here we go... 
Introducing Our Berwick Wash Bag
Our wash bags have been our best-selling products for as long as we've been monogramming. The St James and Islington Wash Bags in particular have been at the top of our best seller list each year for the last five years. But it's time for a new model.
We brainstormed ideas as a team and decided that we wanted to keep the shape and size that work so well but introduce a more gender-neutral fabric that works well in the British climate.  
This is the hard part:  getting the fabric just right and then choosing the colours. The minimum order quantities are very high when producing a bag so we tend to start with just a few colours and then add more once the bag has traction.  
But which colours?? It takes lots of deliberation amongst the team, sometimes consultation with clients via Instagram polls, and endless changes of mind.  But ultimately the colours need to merchandise well with our other products and wear our embroidery thread colours well. 
Then all the little details needs to be worked out... the lining material, pocket design (or whether to have a pocket at all), the zipper fabric and teeth, the zip pull and of course all the branding.
Next we have a sample made in each colour and we go through them thoroughly to make sure we're happy with every detail... the measurements, the seams, the colour and feel of the fabric, the functioning of the zip.  
Before we finalise the order we even monogram the sample to make sure it sews well.
And then we wait... it takes months for production to be completed. But what fun when the boxes arrive in the studio and we unpack the bag we designed from concept to completion. 
Hope you like our new corduroy Berwick Wash Bag. Did you know "corduroy" translates as "the fabric of kings"? A very British textile.
The Berwick comes in 3 gorgeous colours:  grey, teal and hot pink. The hot pink one would be a perfect Valentine's Day gift.  Which reminds me...