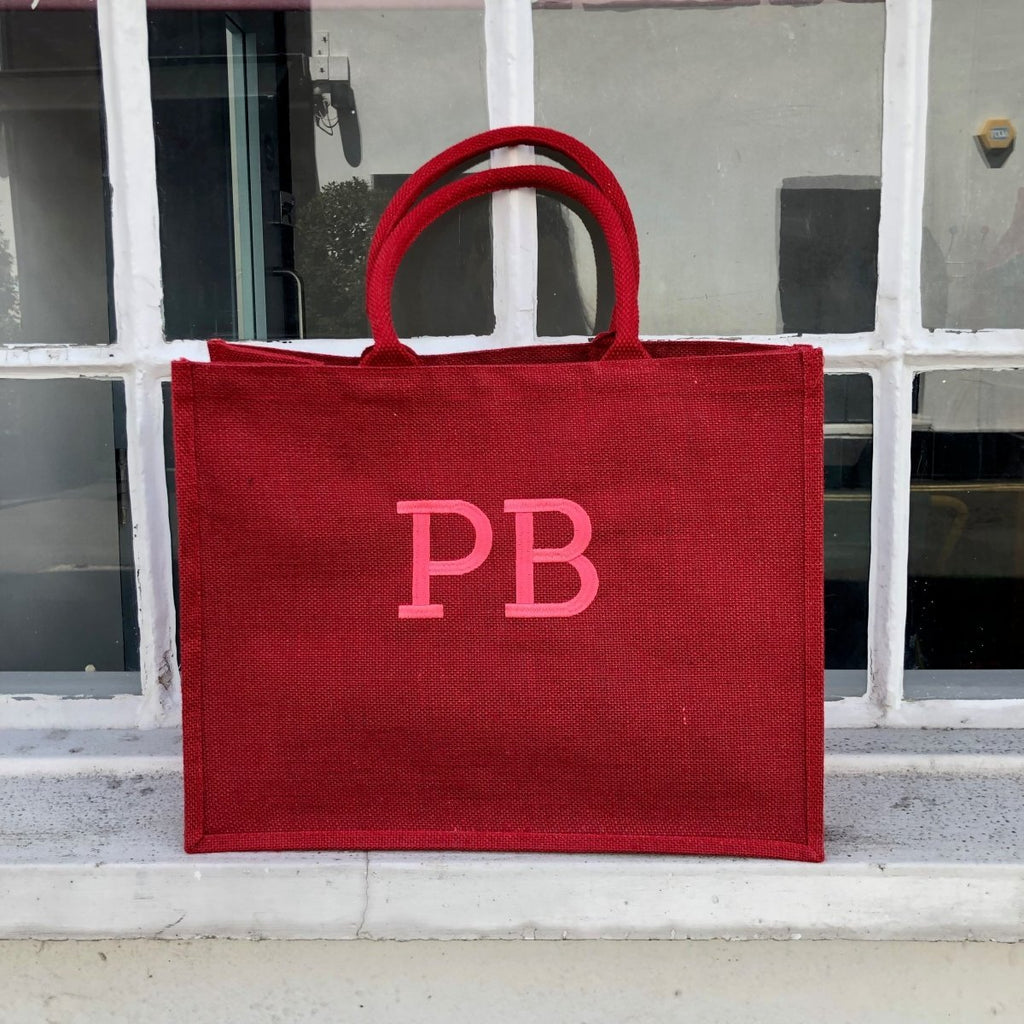 After a long academic year of teaching, essay reading, exam marking, report writing, personal statement coaching, reference writing and more... wouldn't it be to show those dedicated and hard-working teachers how much they are appreciated with a thoughtful little gift?  Students and grads who ground out the hours in the library to produce the ever-important exam results might deserve a little congratulations gift too.
Initially London is a big believerthat you really don't need to spend a fortune to show someone how much you appreciate their hard work.  And there really is no more thoughtful, charming and affordable way to express your gratitude or congratulations than with one of our monogrammed gifts.  
We have curated a list of accessibly priced gifts that would suit teachers, tutors, housemasters, matrons, school leavers and anyone else on your list.  
Gifts under £25
1. Clapham Shopper
Simple but super useful - adding a bespoke monogram makes this useful jute shopper a little bit more special. Ideal for carrying groceries, packaging a gift or simply storing gear, one or even a set of two or three makes the perfect gift.
2. Stripey Pouch
A cute and colorful gift like our Stripey Pouch is the perfect bag to toss in a beach bag, school bag or suitcase. With a zip-up top, you can safely stow earphones, charger cables, pens, sunglasses, medications or other personal things.  
3.  Lacquer Box
Our monogrammed lacquer boxes can be used for so many things... desk supplies, jewellery, cufflinks and collar stays, keys, the list is long.  The small box is priced at £20 including the monogram, the larger one is £25. 
4.  Lavender Sachet
A monogrammed lavender sachet smells like summer all year round. Perfect to tuck under pillows for a deep sleep, or to tuck in knitwear or lingerie drawers. This cute little pouch looks perfect with a set of initials, important date or symbol in a cute, pastel shade.
£25 Gifts:
1. Marylebone Notebook
A perfect gift for those clever teachers and grads to keep track of their busy schedules or record their burning thoughts over the summer.  It's the perfect size to carry in your handbag, backpack or briefcase... not too big, not too small. With the monogram on the front cover everyone will know that the ideas inside are theirs and theirs alone.
2. Insulated Water Bottle
The perfect gift for pretty much everyone who is concerned about single use plastic bottles- a personalised reusable bottle is perfect for school, work, the beach, the gym, on a hike or in the car. This classic bottle looks best livened up Initially London-style with a colorful monogram in a fun font style to really make this bottle personal.
3. Laptop Cover
Perfect for teachers and grads to get their laptop safe and sound to and from the library - a big bold shaped monogram looks fantastic, as does a smaller subtle one.  It's up to you to design the monogram to suit the person you are buying for... we give you the freedom to choose from a huge range of font styles and thread colours.
4. St James Washbag
Our St James Washbag is an Initially London best-seller and we can see why: cute, functional and perfect for carrying toiletries, cosmetics, or anything else that would benefit from a secure zipped closure and a water-resistant lining.  This bag come sin navy, pink, red and mint and can wear almost any monogram well, making it an ideal gift for anyone, young or old, male or female.
Gifts Ranging from £30-50:
1. Perivale Bag - £50
One of our most popular jute styles - super stylish and big enough for all the necessities, plus a book, sunglasses, etc.  We love so much about this bag:  that it is made from such a sustainable plant fibre; that it's round; that it's navy so it can be carried well in to the autumn, that it comes with the cute pompom tassel included in the price; that it wears so many thread colours so well,... need we go on?
2. Covent Garden Basket (medium £50, large £60)
Another Initially London best-seller:  the classic and chic straw market basket is perfect for shopping, errands or storing things away in style.  Keep one in the car boot, in the kitchen, by the front door.... Add some Yarn Tassels to accentuate the monogram.  
3. Turkish Hammam Towels

The perfect present to welcome in the summer combining both practicality and style. Our monogrammed Turish Hammam Towels is a colourful and versatile staple which is so much more than a towel:  it can be worn as a shawl or sarong, used as a picnic blanket or beach chair essential when you want to escape the direct sun. With a great monogram, you can turn this silky soft towel in to a one-of-a-kind gift.
 4.  Eaton Duffle 
Everyone needs a great weekend bag and our monogrammed Eaton Duffle is a winner:  classic, lightweight, durable and monogrammed.