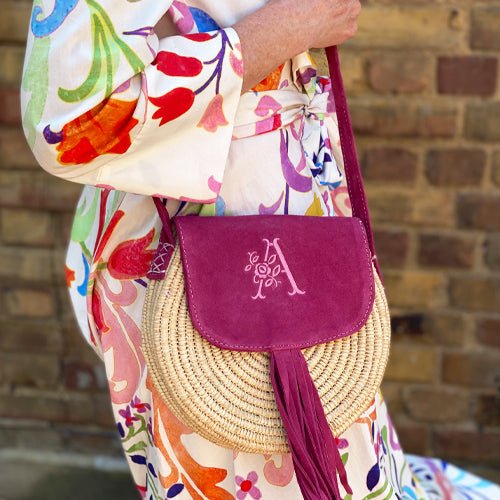 We're delighted to show you some of our summer product drops. Although the weather today seems like we're moving into Autumn, we know more sunny days are just around the corner, and we want you to be ready for them!
.
Starting with our practical and washable monogrammed fleece picnic rugs, made especially for us in Scotland. We struggled to pick the two colours for this new product, we had the whole team gathered around the brightly coloured fleece swatches! We finally decided on a fresh green, and soft sky blue. Nature's colours are so gorgeous at this time of year, and picnics are all about submerging yourself into the outdoors so we thought the organic tones were perfect. We have been delighted that these have been such a hit! We've just opened the pre-orders for the second drop of these, which will be arriving end of July. They are also such fab Christmas gifts so we think these will be around a while. Do let us know if there are any particular colours you would love to see them in.
Our second Summer drop we wanted to talk to you about is our Salcombe Wash Bag. We love the unique woven texture of this, and it looks so fabulous with a bright monogram. It is the perfect size for keeping all those necessities in and throwing into your tote, with a practical plastic lining and little bamboo zip pull. For staycationing in style! 
Thirdly we wanted to show our Cheyne Cross Body Bag. These are made especially for us in Morocco. Jane was lucky enough to visit before the pandemic, and see the talented weavers, embroiderers and artisans at work on our product line. There were so many fabulous colours on offer we couldn't resist offering this in an array of tones! Because they are handmade they all have slight differences, which we love as it makes each one special. I have the Cheyne Bag in black and it's the perfect size for summer evenings, and I love that you can match aspects of your outfit to the colours you have chosen in the monogram! They look so fab with a big single letter monogram such as the Antique Rose text on the Pink Cheyne. 
We will have lots of other new products dropping throughout the year so keep an eye out on our social media @initiallylondon and the 'New In' tab on our website. Some of these will be one drop only so get them while you can!
Holly x