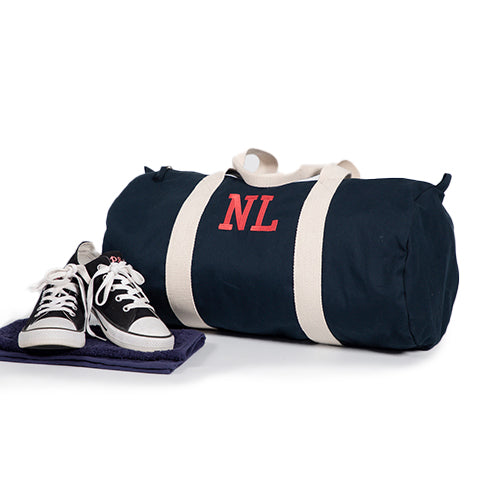 DESCRIPTION
The perfect lightweight and sporty duffle bag now has better environmental credentials... meet our Organic Cotton Duffle Bag.  It's made from heavyweight Control Union Certified Cotton, which meets the highest standards of sustainability.  
The barrel-shaped bag is the perfect size and shape for a gym bag, run-around-town gear or an overnighter for a light-packer or a child. 
There are webbing cotton handles which are ivory on all colourways of this bag. The bag itself comes in classic navy, red, a pale grey and pale pink.
Design a monogram that works for the wearer:  sporty, chic, young and fun... have some fun with font styles and thread colours because this classic bag can wear them all. 
If you're looking for a water-resistant bag, check out our Recycled Chelsea Duffle which is made of 100% recycled HD polyester.  
Monograms Shown: NL is shown in Athletic font in Red thread, TMR is in our two-colour Futura Font in Neon Yellow and Navy. 
Dimensions: The bag measures 50cm long x 25cm wide x 25cm height. 
Materials: 100% heavyweight organic cotton
Care Instructions: Spot clean only; brush away dirt with a dry brush.
Item added to your cart