White Linen Hemstitch Napkin
CLD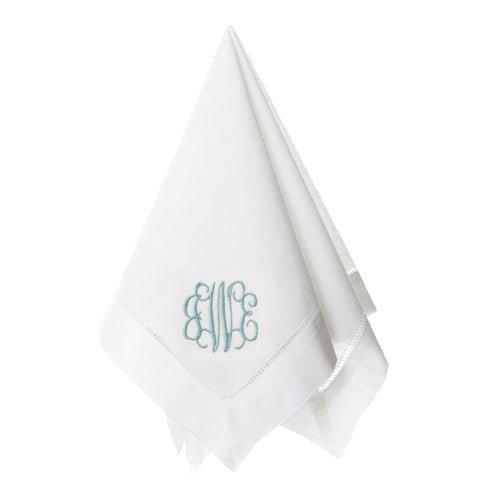 DESCRIPTION
This is our most classic napkin: white 100% linen napkins with a traditional hemstitch border around the edge.  While some hemstitch patterns can look rather vintage, the ladder hemstitch design on these napkins is quite the opposite:  it's modern and fresh.  When these napkins are beautifully monogrammed, they make a stunning statement on your table.  We love elaborate shape monogram fonts, simple single initials, guest names, additional motifs to match a party theme, or anything else you can think of.
The monogram can be placed either in the corner or along the bottom edge, depending on how you like to fold them.  
White Hemstitch Napkins are sold singly or in sets of 4.
Dimensions: Each napkin measures a generous 50x50cm with a 5cm border and a ladder hemstitch detail. 
Composition: 100% linen
Care: Pre-treat stains with Vanish and machine wash at 40 degrees max and line dry to avoid shrinkage. Iron at a high temperature and with steam.  Use starch to restore the just-bought crispness.
* Have a look at our Bespoke Napkins to get your custom imagery translated into embroidery.
Item added to your cart