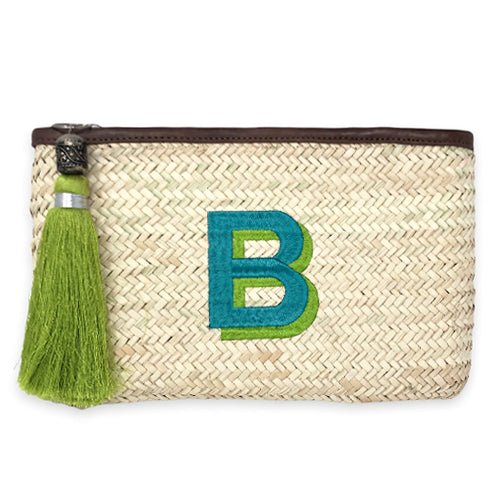 DESCRIPTION
This is what we call arm candy, our Ibiza Clutch and it's roomy enough for phone, keys, purse, a bit of makeup and other bits, but tidy enough to tuck under your arm or toss in your tote bag. The new and improved version of the Ibiza Clutch has an inside pocket and now comes in pink as well as brown leather.
We love the two-tone font called Shadow for this bag, as it broadens colour options for the outfits you wear it with, but it also looks fab with any of the font options we've curated for you. If you do choose the Shadow font, select the thread colour you would like for the top colour and then mention the colour you'd like for the bottom (shadow) colour in Special Instructions at checkout.  
Add one of our Moroccan Silk Tassels, Yarn Tassels or Metallic Yarn Tassels, sold separately.
Monograms Shown: We love our two colour shadow font on the Ibiza, shown here a few times. Match a pretty tassel to one of the colours too to really make it pop. We have also shown Cheltenham Tall font in Neon Yellow for 'Max'.
Composition: Hand woven from Palm Leaf in Morocco and and features a leather trim and an inside pocket.  
Dimensions: Approx 28cm x 20cm x 5cm.
Care: Wipe clean only. 
Item added to your cart