Perspex Mahjong Set with Racks
LD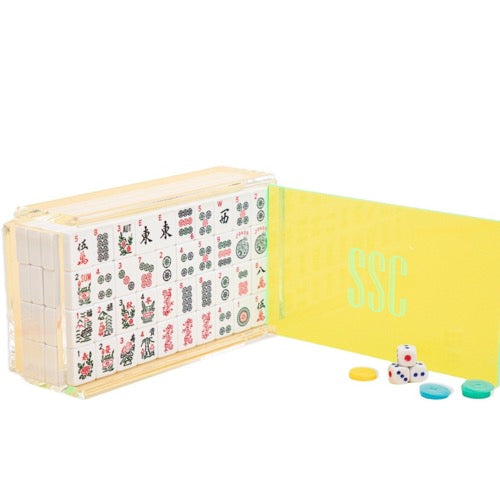 DESCRIPTION
Mahjong is a game that's been played for centuries and we've made it chic and modern in polished, heavyweight perspex with a monogrammed fluorescent lid. Whatever the prevailing wind, this gorgeous set will make the game more distinctive.
Our set includes the 144 tiles based on Chinese characters, as well as 4 racks for playing them. Also included is a 'how to play' booklet, 4 extra blank tiles, 2 extra joker tiles, point markers and dice. 
We laser-etch your monogram on the underside of the flouro lid so the smooth surface on top isn't interrupted. On the clear set, the finish of the laser-etched design is white; on the pink and yellow sets the finish is a slightly paler shade than the original colour. 
If you're a card player instead, check out our Perspex Playing Cards. 
Materials:  100% polished acrylic perspex
Item added to your cart