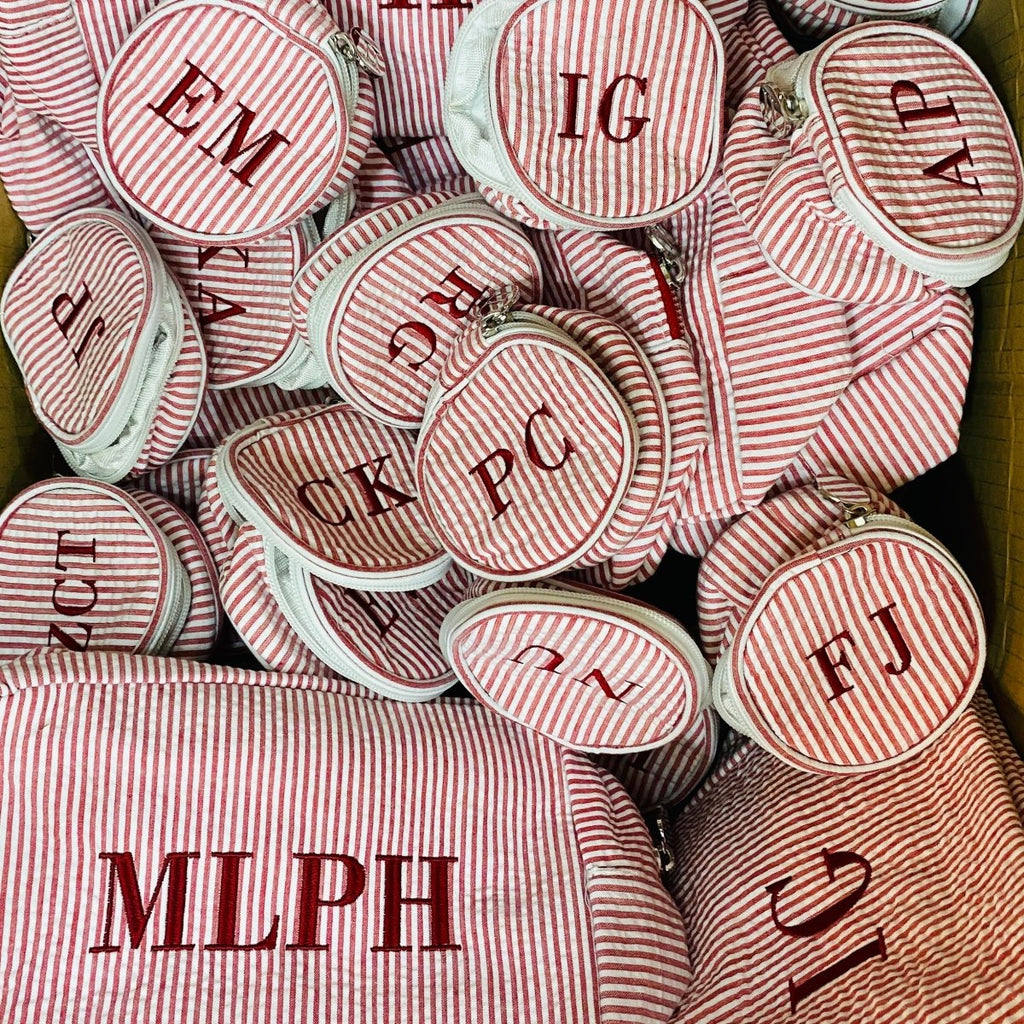 We were truly overwhelmed with the support we received over Christmas, it was amazing to watch your Christmas orders pour in from late October right up until the last order date!
We love each and everyone of our customers orders - whether they are simple and classic tone-on-tone monograms, or bright and bold designs. 
We have a collection of some of our customers own images of their lovely monogrammed and embroidered orders which we wanted to share with you, which hopefully you will get some ideas from! 
How gorgeous is this shot of a happy family all with their matching monogrammed baseball caps! This font is called Pacific North West, it's fairly new to our collection so we were delighted when this order came through. Pacific North West a really fun, expressive font, perfect for the nicknamed caps here!
Here we have a collection of some of the stunning table displays you thought up this year! The past couple of years have certainly made us put more effort into 'eating in' and we love to see the creative use of our linens.
In the first image
 we have the bold 'F' napkins which was the first letter of the family name, this is in our Niagara font in Sage Green. Simple, bold and beautiful!
Below are
 our Pink Fringed Napkin looking utterly gorgeous with the contrasting Bright Orange thread colour.
Our monogrammed ribbons were one of our best-selling products this year and have been used in so many different ways. They are so effective as simple table place-names as shown here on our Navy Velvet Ribbon using Ballentines font in gold thread. They can also be used as an embellishment for a gorgeous napkin.
We love to translate your imagery ideas into embroidery as shown here with the bow and arrow, please do get in touch if you are interested in something like this. 
We worked on a lot of fun bespoke imagery last year, from logos to family emblems, crests, portraits and dogs!
This project was especially fun. A Thanksgiving meal where the place names were depicted in napkins showing the guests dogs! This process takes around two weeks and involves so many members of the team.
Holly illustrates the portraits digitally, stylising them so that they translate well into stitch. Clarissa then carefully digitalises these so our machines can read the files and then the embroidery team sew them in all the gorgeous colours! It certainly is a labour of love and we absolutely love it.
Our Cable Kit stockings got a lot of love this year, we love this bold Copperplate design in a festive red thread colour. Creating heirlooms we know you will cherish for life is so special. 
We love to see photos of how you use your products so please do tag us @intiallylondon on Instagram or even pop us over the image on email! We can't wait to show you some of our exciting New Year projects too.