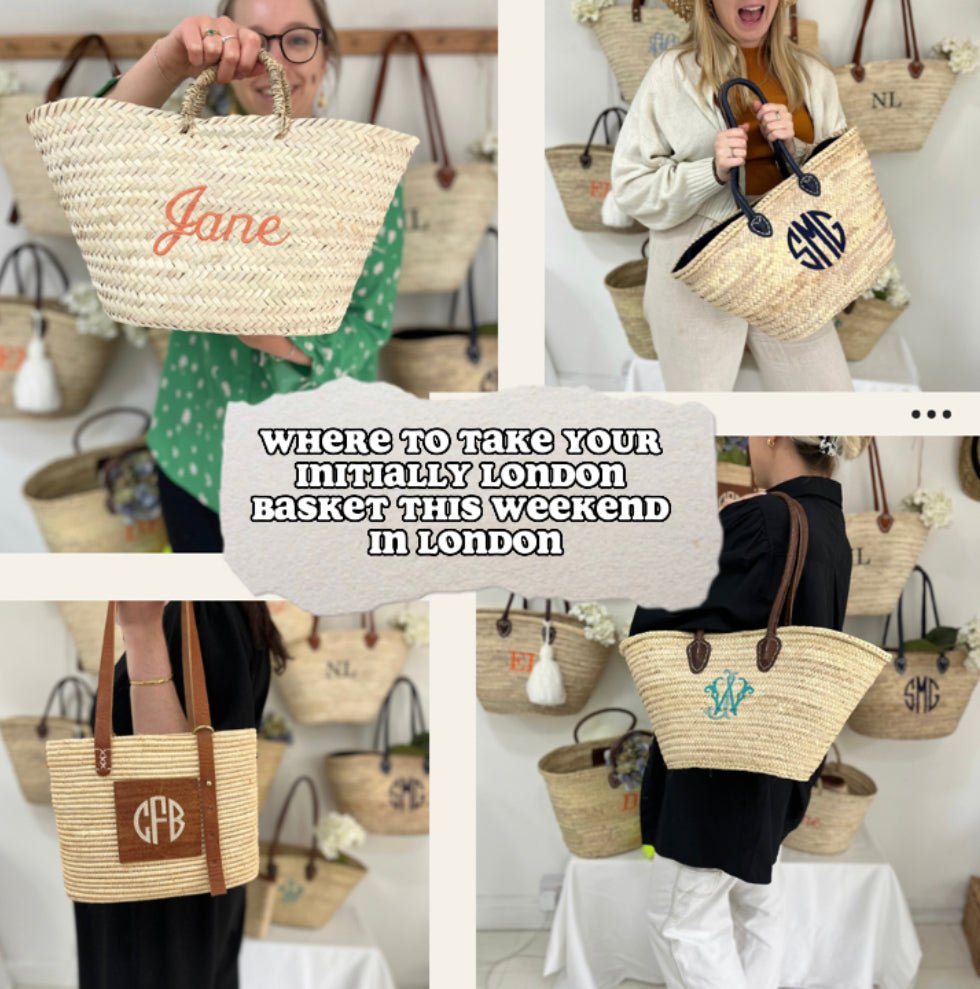 Where to take your Initially London basket this weekend in London...

 
Kalee, who is on her week's work experience at the IL studios, asked the girls what they were up to over the weekend, and which one of our IL baskets they were going to take with them and why! Have a read below, and maybe get inspired to visit one of these events running in London over the weekend. 
Poppy-
Camden Market.
This is a great place to take our
Borough Market shoulder basket
as it is not to big and has a unique sense to it , which makes it perfect for Camden. Camden Market is the place to go with friends for a great day out and also a great evening as there is always somethings happening. Our Borough Market shoulder basket is perfect to use as a shopper to place yous finds into as there are many amazing shops, stalls, plus a huge food market that is delicious and will definitely make you want to go back again.
Nat-
V&A, Diva exhibit.
This is a great place to take our
Richmond Rattan basket
as it can be used as the statement piece to your outfit as you can style it either up or down. One great example of how to style this basket is with blue jeans and a colourful top or even a sequin blouse as they are the definition of diva! Elton John is very much a fan of sequins, which you can get to see in this exhibit that were created for him such as his iconic 50th birthday look and enjoy photographs of many of his other iconic moments alongside many other iconic moments.
Holly-
Greenwich Market.
This is great place to take our
Petite Straw basket
as it can fit your finds into and is also light weight meaning it is easy carry in busy places. At this market you can enjoy art stools, food stalls, jewellery stalls and much more. One great food stool is there fudge stall that has a wide variety of flavours such as lemon sorbet, slated Carmel and many others the best thing about this stall is that they have a huge range of vegan treats as people may struggle to find fudge which suits for them.
Flo-
Ally Pally, Kaleidoscope festival
- this is a great place to take our
Kingston market basket
as it has a closed top, which is very good for festivals as we normally worry about losing belongings or even our belongings being taken. At this festival the whole family can go for an eventful outing as there are activities and performances for children to enjoy and adults can enjoy live performances. One great example for children's entertainment is the African Acrobatics Circus this is a great way to keep yourself and your family on the edge of your seats as you get to experience a live performance of them fire-breathing and also flips and tricks. Our Kingston market basket is great for this event as it is a practical bag that is easy to use and is able to fit a lot in, which is useful for families for big outings like this.
Other fun ideas for things to do in London this weekend: